Mobile Crisis Outreach Dispatch: 1-855-800-1239 (A mental health counselor is dispatched to homes, schools, emergency rooms, or public places where a mental health crisis is occurring)
24-Hour Crisis Line: 1-855-325-4296 or IowaCrisisChat.org (Trained crisis counselors are available via phone, chat, and text to support people dealing with thoughts of suicide or other mental health crises)
UCS Confidential Reporting: 319-335-7294 (Speak with and make confidential reports to Iowa's University of Counseling Services (UCS))
National Suicide Prevention Line: 988
RAINN Confidential Sexual Assault Line: 1-800-656-4673
Trevor Project LGBTQ+ Suicide Prevention Lifeline: 1-866-488-7386
Trans Support Lifeline: 877-565-8860
UIowa Student Health Center: General phone: 319-335-8370
                                                       Appointments: 319-335-8394
UI Support and Crisis Line: 844-461-5420 (Call or text for 24/7 assistance)
Rape Victim Advocacy Program: 319-335-6000 (24/7 assistance)
CommUnity's Mobile Crisis Response: 855-581-8111
Always contact 911 for immediate help
Did you know...
B

etween 1000-1200 students in the U.S. will complete suicide annually

On average, there are 132 suicides per day 

Ninety percent of people who die by suicide have an underlying — and potentially treatable — mental health condition
(via American Foundation for Suicide Prevention)
What is the Green Bandana Project?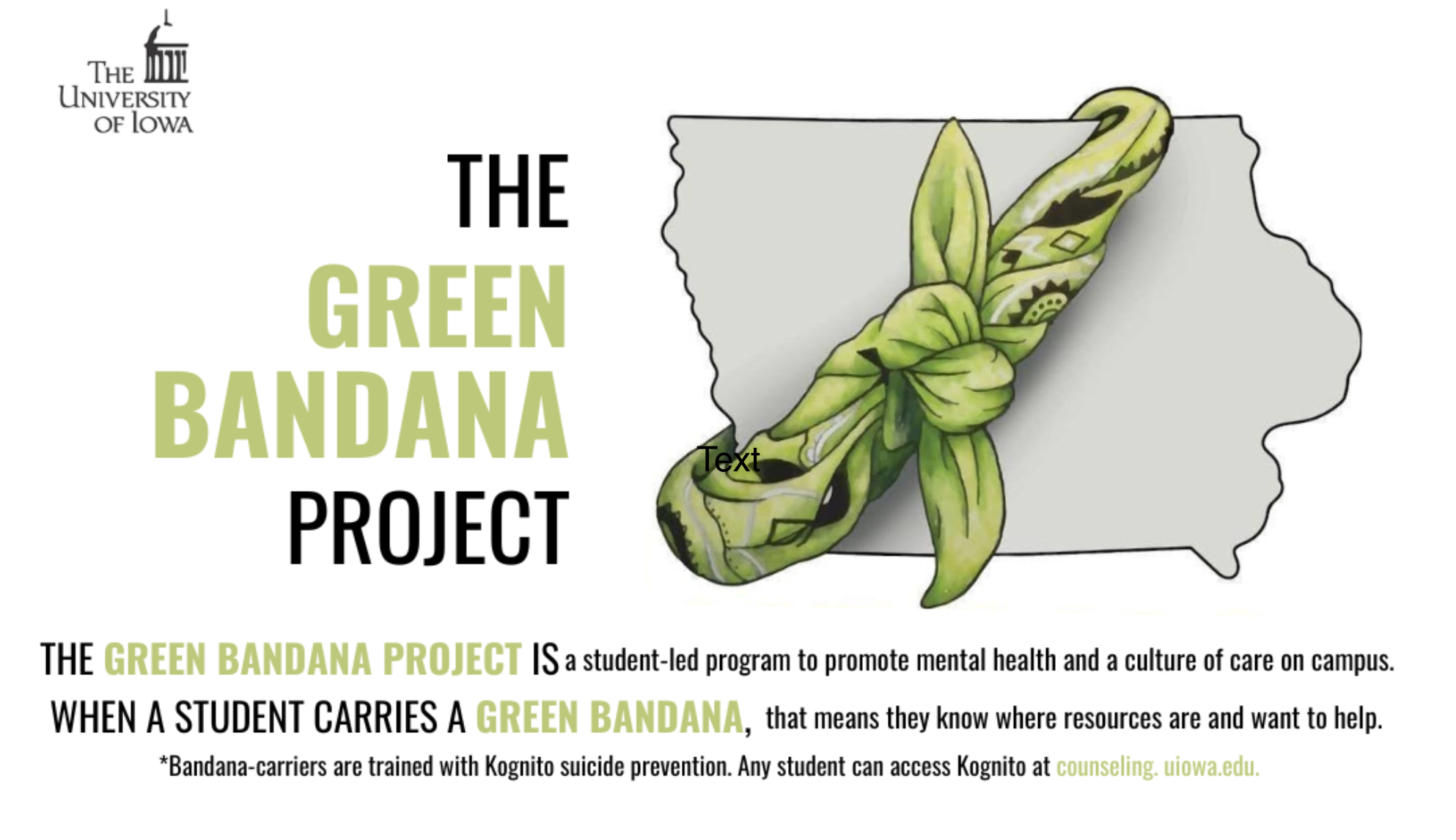 The Green Bandana Project is a student-led program​ designed to spread awareness of resources for those with a mental illness or struggling with a mental health crisis to promote a culture of care on our campus. When a student carries a green bandana, it indicates that they are informed with relevant resources and are able to help. All bandana carriers are trained through completion of KOGNITO training, an online simulation that builds awareness, knowledge, and skills about mental health and suicide prevention. 
The Green Bandana Project originated on the University of Wisconsin's campus in Madison, Wisconsin to promote a stigma-free and supportive environment.
To find out more information, go to https://www.namiuw.org/the-bandana-project.html
Kognito is an online, interactive role-play simulation program for students, faculty, and staff that builds awareness, knowledge and skills about mental health and suicide prevention. It prepares users to lead real-life conversations with fellow students and colleagues who are in distress and how to connect them with the support they need.
For Students:
Log in using your HawkID and password
On the Compliance and Qualifications page, select the My Training tab at the top of the page
Under the My Training tab, click on the Enroll in Courses button
On the Self Enroll in a Course page, in the Course Title box search for "suicide prevention"
In the search results click on the View Details button for the Kognito Suicide Prevention, Students FY 20 course Follow onscreen prompts to open and take the online training now.